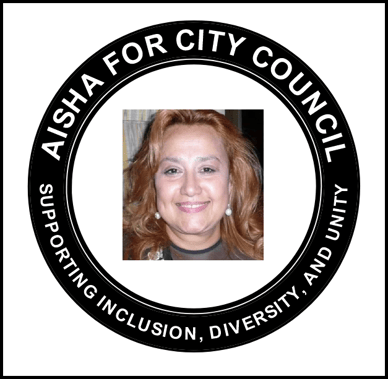 I am a police officer and my husband a fireman, my sister a nurse and my mother a doctor. Why vote for Aisha Hernandez?
Aisha knows that first responders are the key to the city. Safety is very important. Emergency services are needed. Aisha has been in the healthcare business and is aware of the needs and the work of first responders I am one of you!! Vote for me I will not let you down.
I am an immigrant and need to support my family, why should I support you?
I have worked with immigration constituents practically all my life and believe that you should have quality of life and equal rights, housing and work. We can do this together. With my experience there's no turning back.
I am a single parent and have to take care of my children and parents. Why should I vote for Aisha?
Vote for Aisha, she knows the hardships of a single parent and the care required for older adults and children. She has lived it and knows how much time and effort it takes while holding a job and assuring the youngsters have safe recreational activities . Aisha has done all the above and wants to improve your quality of life.
I am a teacher and a parent coordinator. Why vote for Aisha?
Aisha worked at a daycare early on and is familiar with the day to day issues parents and teachers are facing in our schools . We need smaller classrooms and salaries for teachers and parent coordinators to help the education system flourish.
I am a homeowner. Why should I do vote for Aisha?
Aisha is a homeowner and knows the hardships and benefits that are attached with being a homeowner or renter. We must stand together to succeed and correct the bureaucracy that has brought us to this day and time. Give me a chance to make it happen for us.
I am a business owner why should I vote for Aisha?
Aisha knows all about businesses. She is an advisor to business owners and helped fifty business owners take off one day a week for over two months to learn how to improve their business through Internet marketing, strategic planning, Taxation and Finance. Give me a chance let me show you the way for success for you and your family.
I am homeless and unemployed I don't believe in voting!

With your support I can create an initiative to help unemployed homeless persons, as well as establish medical care and job training.
I turned 18 yes old and am not sure that voting is a positive action. Why vote for Aisha?

Aisha cares for youth programs and training initiatives in aeronautics, space programs, telescopic research and much exciting programs that can make a you as a youth a mentor for society, a public speaker, start your own business, so many positive things can happen if you vote for me.
I am a veteran and don't care for voting after serving my country for years. I am a senior and my country has not provided when in need. We have wounded soldiers that rely on organizations for help.

I am the person you should vote for! I have a military family and am proud of the service to our country! I will fight the federal, state and city government for your quality of life as well as for your family! After all, my Father is a Korean War Veteran.
Did You know that for every person that does not vote, we loose budget benefits for services within districts every time the census bureau does their job. Streets are not clean because voter turnout was low. Let's try it and see the difference. In the suburbs the streets are clean because every tax payer makes it their business to vote on election day for better schools and cleaner streets and safety! We can lead by example in the city.
Let's do this together !
Vote Aisha Hernandez Ahmed
The effective choice for leadership vote Aisha #1